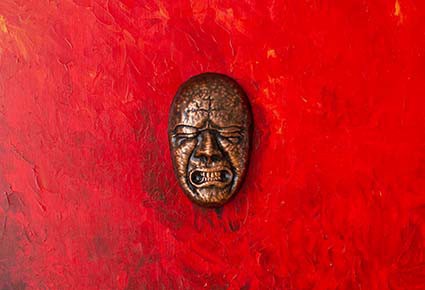 Wojciech Górski 'Tourette's Faces'
07 June 2022 - 26 June 2022
ABOUT EXHIBITION
Wojciech Górski has always been with Tourettes. He had to become friends with his tic disorder, which takes the form of involuntary - sometimes quite strange - movements, in order to be able to live normally and fulfill his artistic passions. These passions - as he says - he devotes himself unreservedly. He likes challenges and new experiences, and above all he works - with persistence, to prove that passion, although it cannot defeat the disease, can sometimes win with it, and then the joy of creation transforms - so simply - into the joy of life.
Wojciech was born in Zamość and graduated from the local secondary art school in 1991. A neurological disorder, with which he has been struggling since birth, prevented him from continuing his artistic education at university. To benefit his own life with Tourette's syndrome, he has recently turned it into copper. He can only afford to pursue this new passion, which is learning the technique of boning, now that he has established himself as a professional illustrator. He does not give in to his illness, improving with persistence and determination - "on his own" - each new artistic or craft workshop. His first illustrations were done in watercolor, but traditional painting has been replaced by technology today. Although the computer and tablet cannot always capture the lightness and ephemerality of the drawing line, they are methods of work necessitated by the pace of today's life.
In a world where we use abbreviations and emoticons to communicate, paintings for the young art viewer look a little different than they used to. There are no original illustrations because publishers order them digitally. Still, the most important thing is the readability of the aesthetic message addressed to young people. Górski continues to create with a child's sensitivity in mind, aware that he himself must surrender to the charm of the text so that his illustrations - aesthetic and expressive - may find their way into a child's imagination - into a world where anything can happen. He enters this fairy-tale world with ease because he retains his childlike freshness of perspective to this day. Vividness, great expression, saturated flat spots are the features of his illustrations which - as he says - he adjusts to the sensitivity of a contemporary child, its parents and also to the requirements of the ordering party.
Górski proved that despite the lack of a university diploma, it is possible to meet the demands of the publishing market in the field of illustration. He achieved this undoubtedly thanks to his inborn talent as a draftsman. Today he has a rich artistic output - a lot of pictures in children's books (he himself is not able to give the number), also illustrations for textbooks and magazines. Wojciech doesn't like exhibitions or public appearances. He lives in Warsaw, creates online, but often visits his hometown (he has his new atelier at his parents' place). He recently let himself be persuaded to take part in the "Ulica Literacka" (Literary Street) festival organized by Zamojski Dom Kultury. Last year in summer he showed us a small part of his illustrational output at an exhibition in a small art gallery of the "Mazagran" café.
Wojciech's biography as an illustrator is unique in that he created his pictures for the first in Poland (and maybe also in Europe) children's book about Tourette's syndrome entitled "About Wojtek who tics". "It was about Wojtek, who ticked". Górski is the protagonist, and he translated his own story of living with the disease into a painting. It is clear that this work is undergoing a kind of evolution, because the artist (despite not having a master's degree in art) is still looking for new methods of expression. He showed "Ticking" to children, among others, in order to make them realize that it is possible to live with the disease. Now he talks about Tourette's syndrome using yet another language of art, combining painting, sculpture and craftsmanship into one whole.
A new experience of Wojciech Górski is working with copper - a material which in the form of an element is essential to the functioning of our body. The reddish-coloured metal (which turns green in the light) is warm, shiny and harder than gold. Wearing ornaments made of copper, which has antibacterial and antiviral properties, relieves pain. The mask protects the face, and the bonnets made of this material rise to the status of a metaphor in our reality. Wojciech's masks, however, seem to have a specific message. Placed on a square painting background, they become the dominant element of the composition. The masks speak, and their expression is not only the result of artistic search, but first of all a reflection of a real face deformed by illness. This is the face of a man who simply lives with Tourettes. The emotions connected with this difficult life are reflected in the painting form - a combination of colors and shapes. All "faces of Tourette" are placed on a square surface of 90 x 90 cm. Each of them has its own title and is also marked with the date of creation. The first one was made in July 2021.
It took the author less than a year to create the whole cycle, consisting of 16 compositions. He worked intensively with the intention of presenting the works at the right time - on June 7, the World Tourette Syndrome Awareness Day. These compositions - like the reception of any work of art - will induce the viewer to their own explorations and interpretations, which will certainly be helped by the choice of motifs such as eyes, labyrinth or heart. The painterly structure of the picture (smooth or impasto) is also not accidental, as its color can also be perceived in symbolic terms.
A few centuries ago Theodore Gericault created a series of "Monomaniacs" to make the public aware that the obsessive control of the mind by a single thought is a disease, not madness. Today, using the language of art, Wojciech Górski makes us aware that unusual behavior in speech or gestures is also a disease that cannot be perceived as quirkiness or madness and, worst of all, cannot be cured. It takes courage (and talent) to make this symbolic masquerade, led by Tourette himself, the subject of a play that is a reflection of one's own, very personal experiences, which if shown to the world can make it better.
Izabela Winiewicz-Cybulska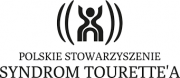 The Polish Tourette Syndrome Association is the only organization in Poland acting on behalf of people with Tourette syndrome and their relatives. It was established in 1997 on the initiative of a mother whose son suffered from Tourette Syndrome, and registered in the National Court Register in the same year. Since 2004, it has had the status of a Public Benefit Organization, and thus it is entitled to receive 1% of tax from individuals. Detailed regulations governing its activities are specified in its statute.
People with Tourette syndrome (abbreviated to ZT), because of their tics which are visible to the environment, often face intolerance, misunderstanding and discrimination in the society, they are excluded in the school or professional environment, which most often results from the lack of knowledge of the environment about the nature of the disorder and how to deal with people with Tourette syndrome. According to its statute, the Association supports people with Tourette syndrome and their families by facilitating contacts between them and by collecting and disseminating knowledge about the nature of the disorder and possibilities of therapy.
The activities of the Association are based on the idea of social work and it is not profit-oriented. The entire income is allocated exclusively for the realization of statutory goals. The Association brings together people suffering from tic disorders and Tourette's syndrome, their families, sympathizers, doctors, psychologists, educators and others interested in improving the living conditions of the affected persons, in particular in the sphere of health care, professional and social rehabilitation, education, recreation, assistance in employment and obtaining qualifications, and proper functioning of their families.
The Association has a nationwide range. It addresses its activities to patients and their families as well as to its surroundings: people who may come into contact with Tourette syndrome at work (doctors, psychotherapists, teachers) and the general public. From the beginning PSST acts as a self-help group. We are mainly involved in educational and informational activities, as well as in integrating the environment of people affected by Tourette syndrome, taking a number of initiatives to improve the quality of functioning of people with TI as members of society. The activities are conducted on a continuous basis: we run duty hours, support groups, an information centre, we organize trainings, talks, family meetings, we run social campaigns, we publish books, brochures, films and educational gadgets about Tourette syndrome, we cooperate with media and institutions. We organized international conferences and lectures of specialists. The full offer of the Association can be found at www.tourette.pl.