GoOut is a place where the user begins his or her adventure of experiencing culture.
Our goal is to inform you about events and make it easy for you to buy tickets.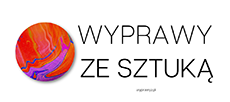 Expeditions with Art invites you on a journey to world exhibitions, concerts and opera performances. The participation of experts from the world of art and their lectures provide deepening knowledge and unique encounters with masterpieces. We came into existence in 2013 somewhat spontaneously. Since then, the number of those in love with trips with an expert into the world of art has been growing steadily. After 10 years, we know that art brings people together, and we trust that we continuously connect people with passion.

Artinfo.pl is the most recognized and highest rated online portal devoted to art. It is a leading enterprise in the field of information on the contemporary art and antiques market in Poland, there is no comparable competition in the Polish Internet. The portal has been in operation since the spring of 2000 and since then has accumulated hundreds of thousands of information viewed by thousands of internet audiences.

OneBid is an auction platform that has been in operation since 2014. The service allows you to participate in live auctions of art, numismatics and handicrafts via the internet. All you need to do is create an account and apply to participate in selected auctions. For more information about the auction process, please visit the How to Bid page.