NEWS |
Święto Ulicy Stalowej
---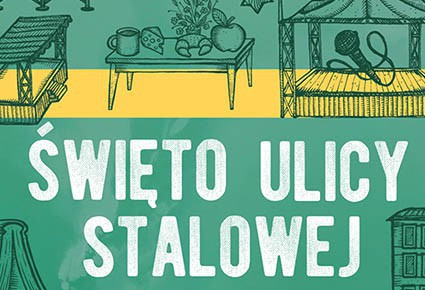 Święto Ulicy Stalowej
Events
25 June 2022 - 26 June 2022
MORE
PROGRAM:
Throughout the STALOWA Street Festival, the STALOWA Gallery presents two exhibitions:
- "Faces of Tourette's", Wojciech Górski >>


- Works of the artistic duo Vistulart >>


SATURDAY 25 June 2022


- 12.00 - 15.00 Film projection "A shared journey around Warsaw's Praga district"

- 15.00 - 20.00 PHOTOGRAPHY WORKSHOPS "OLD WARSAW" (PHOTOGRAPHY), conducted by Robert Gietka

SUNDAY 26 June 2022


- 12.00 - 17.00 Film projection "Wandering together around Warsaw's Praga district"

- 17.00 finisage of an unusual exhibition of an artistic duo Vistulart >>


"WANDERING TOGETHER IN WARSAW PRAGA"
"A Common Walk Through Warsaw's Praga District" is a series of films about people and their artistic projects realized
Praga district, including Marek Sulek (City of Angels), Grzegorz Laszuk (Commune Warsaw), Darek Kunowski
- Lublin Scene, Marzena Turek - painting on roller skates, Dorota Porowska - Labyrinths, Katarzyna Czajka - Mannequins, Anna Szmidt - Hope4street Group


On the occasion of the Stalowa Street Festival" the STALOWA Gallery FOUNDATION invites you on Saturday, June 25, 2022 from 15.00 to 20.00
for the "OLD WARSAW" PHOTOGRAPHY WORKSHOPS
A photography workshop on the PHOTOGRAPHY technique will be held at the "STALOWA" Art Gallery at 26 Stalowa Street.
This technique combines two fields of art - photography and printmaking.
Its roots date back to the end of the 19th century. The organizer will prepare polymer matrices with beautiful, historic photographs of old Warsaw, while workshop participants will have the unique opportunity to
to fill one of the matrices of their choice with printing inks. We guarantee good fun and a hand-made souvenir. Participants do not need to have any experience in either printmaking or photography. The classes will be led by Łukasz Gietka, a specialist from the Institute of Precious Photographic Techniques. All materials will be provided by the organizer.




Full program of events >>