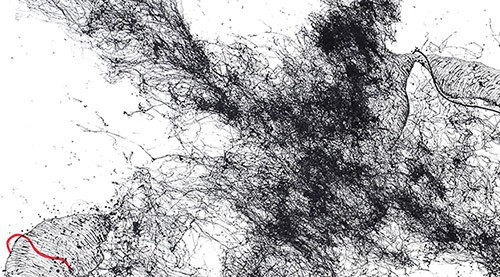 CATALOGUE
PIOTR PASIEWICZ ACTUS PURUS
17 February 2016 - 15 March 2016
ABOUT EXHIBITION
Piotr Pasiewicz is a demon for work, tireless searcher, experimenter and artist with extraordinary force of expression. Although his main interests are graphics, drawing and painting he is not among creators limited to the walls of his studio. When opportunity comes he uses spaces of abandoned buildings, swimming pools, roofs and other places where he can transfer his creations onto really "big form". Those places he comes across often become the scenery for his performance activities or short videos. City of Łódź where he lives and creates has in this context special meaning. As he points out himself the structure of this city is based on strong aesthetic contrasts and this delivers the substance for his artistic composition.

ACTUS PURUS exhibition at the Stalowa Gallery is the first to be so extensive and complex representation of Piotr Pasiewicz' artworks in Warsaw. Drawings, graphics and paintings from the most important and distinctive series of works created by Piotr Pasiewicz in the years 2013-2015. Actus purus is for the artist a pure creative act, a kind of crystallization process, which allows to purify contents and pictures left in subconciousness. Pasiewicz' s artistic work can be described as constant transformation of form and shape, the artist went through years of experiments and intensive cognitive process taking in everything that came his way, but in recent several years he consistently follows his purification path in search of himself (actus purus).

At this exhibition predominate works from the series "Kinetic Matter" and "Mattery Deliverance", due to their cyclic continuation there is a chance to compare works from different periods. "Kinetic Matter" is an author's form of graphics based on linocut and enriched with different means of expression such as: pen drawing, acrylic or ink. Drawing and graphics elements are set in uneven grey surface sometimes becoming black, which highlights depth and infinity. The subject and form both loosely refer to kinetic theory of matter, which implies that matter consists of constantly moving atoms. This aspect is directly connected to philosophy of transformation, conversion and disintegration, which has constant presence in the artist's work.

There can be felt certain anxiety and tension in the works which causes them to have dynamic character despite the closed composition.

Paintings on canvas from "Mattery Deliverance" series which the artist creates incessantly since 2013 have entirely different form. Those works are notable for very intensive color, which has scarcely appeared in Pasiewicz's work, only in specific elements and shades. Color introduces strong energy charge into artist's paintings, Bergson's élan vital, which additionally widens viewer's interpretation: color and everything that can be associated with it. Paintings as well as graphics are a combination of many various drawing and painting techniques although their structure is more dynamic, complex and vibrant.
At the ACTUS PURUS exhibition there are also artist's drawings, which often are a starting point for further form consideration and are primary element used subsequently in graphics and paintings. Particularly interesting series of drawings executed with ink is "Puls-Impuls", in its structure it reminds the movement of dense paint let into water.
Similarly as in the case of "Mattery Deliverance" between organic forms Pasiewicz places geometric shapes, which brings out opposition between constant things and things that are changing, constantly moving. The artist emphasizes that those oppositions exclude each other and at the same time they cannot exist without each other.
CATALOGUE